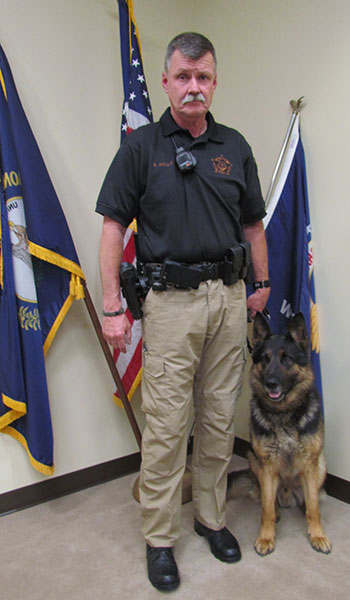 Since May 4, 2012- The Rowan County Sheriff's Department has put in service a K-9 Deputy to its team in hopes of making their work and that of other police agencies safer.
Bandit, is a full-fledged, badge-wearing deputy, who began his duties Monday with Deputy Baker Hollis after a lengthy training at police K-9 academy Von der Haus Gill in Northern Ohio.
This German Shepherd was hand selected in Germany by Von der Haus Gill and is a dual purpose canine trained in narcotics and explosives detection, officer protection, tacking, patrol articles search and criminal apprehension.
The two-and-a-half year old male was previously trained for agility trials in Germany before being selected for police training.
Bandit is trained in what is called passive detection alert. When detection is made, he will sit and stare at the place the items are and wait for the command to release his stance.
"Some police dogs are trained for an aggressive response such as barking or pawing at the object when they make detection,. "The passive type of training has helped bandit stay a calmer, friendlier dog."
But don't think Bandit is a pushover when it comes to protecting himself, the community and his handler.
He is trained to protect and can take a criminal down during a chase, "When commanded or if he feels we are threatened, this 70-pound deputy will act accordingly."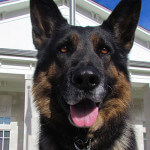 Bandit is trained to find cocaine, crack, methamphetamine, mushrooms, opiates, heroin, hashish, and ecstasy.
He also is certified to do article search and recover evidence, help locate missing persons, criminal or lost, is trained in officer protection and can do searches day or night.
The presence of a K-9 is a deterrent and we want to prevent crime. That is a major part of what Bandit does, He is a great dog and interacts with people so well. But he knows he is a deputy with a job and is always ready to work.